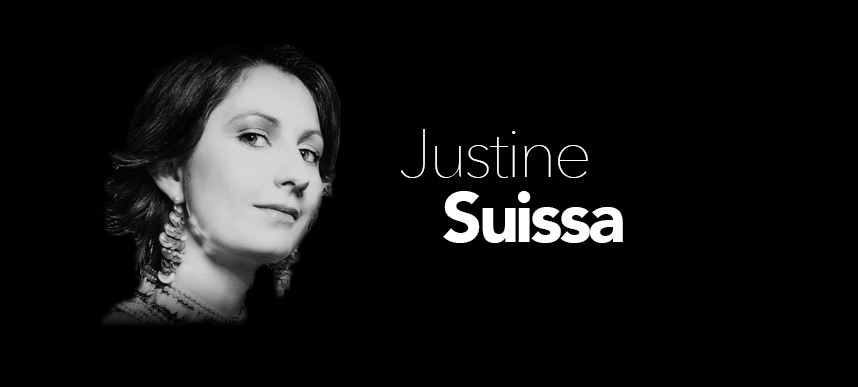 Justine Suissa to urodzona 21 marca 1970r. brytyjska wokalistka i autorka tekstów, znana głównie ze współpracy z grupą Above & Beyond. Współpracowała również z jednymi z najbardziej popularnych DJ'ów na świecie m.in. Armin Van Buuren, Robbie Rivera, Markus Schulz.
Justine po raz pierwszy pojawiła się w szerszym gronie, na albumie Chicane " Behind The Sun" z 2000 roku . Następnie założyła OceanLab z Above & Beyond, zdobywając w 2004r. dwadzieścia najlepszych hitów w Wielkiej Brytanii z "Satellite". Współpracowała również przy wielkim tanecznym hicie "Burned With Desire" z Arminem van Buurenem w 2003 roku.
Została nazwana "[jednym] z najbardziej wpływowych wokali elektronicznego świata" i "ostoją w świecie transu".
Albumy
Sirens of the Sea z Above & Beyond (jako OceanLab)
Single z udziałem Justine
Chicane feat. Justine Suissa – Autumn Tactics (2000)
OceanLab – Clear Blue Water (2001)
OceanLab – Sky Falls Down (2002)
Silvester feat. Justine Suissa – One More Step To Heaven (2003)
Armin van Buuren feat. Justine Suissa – Burned With Desire (2003)
Robbie Rivera presents Keylime – Girlfriend (2003)
Armin van Buuren feat. Justine Suissa – Never Wanted This (2003)
Masters & Nickson feat. Justine Suissa – Out There (5th Dimension) (2003)
OceanLab – Beautiful Together (2003)
OceanLab – Satellite (2004)
Markus Schulz pres. Elevation feat. Justine Suissa – Somewhere (Clear Blue) (2004)
Armin van Buuren feat. Justine Suissa – Wall Of Sound (2005)
Armin van Buuren feat. Justine Suissa – Simple Things (2006)
Robbie Rivera feat. Justine Suissa (Keylime) – Float Away (2006)
OceanLab – Sirens Of The Sea (2008)
OceanLab – Miracle (2008)
OceanLab – Breaking Ties (2008)
OceanLab – On A Good Day (2009)
OceanLab – Lonely Girl (2009)
OceanLab vs. Mike Shiver – If I Could Fly On The Surface (2010)
Markus Schulz feat. Justine Suissa – Perception (2010)
Above & Beyond & Gareth Emery presents OceanLab – On a Good Day (Metropolis) (2010)
Boom Jinx feat. Justine Suissa – Phoenix From The Flames (2011)
Above & Beyond - Little Something (2015)
Oceanlab - Another Chance (2015)
Above & Beyond - Alright Now (2017)
Pozostałe utwory z udziałem Justine:
Płyta Common Ground, Above&Beyond:
Cold Feet
Naked
Bittersweet & Blue (jako autorka tekstu)
2016 World Tour
St Johns at Hackney, London

Albert Hall, Manchester

TivoliVredenburg, Utrecht

Royal Albert Hall, London

Chicago Theatre, Chicago

Massey Hall, Toronto

The Wang, Boston

Beacon Theatre, New York City

Greek Theatre, Berkeley

Hollywood Bowl, Los Angeles

Waikiki Shell, Honolulu

Sydney Opera House, Sydney